What is the TRUE benefit to adopting an Angel Retriever?
The true benefit to adopting an Angel Retriever goes far beyond the fact that you are getting a dog from the Little Angels Breeding Program – or even that the puppy comes to you started in its training … the true benefit is that we KNOW this dog! It is certainly wonderful to have trainers available before and after you take your new puppy home – but the best part is that this is the RIGHT puppy for YOU to take home. We've spent a minimum of 4 months getting to know this puppy – and not just through observation – but through intentional interaction in training sessions and temperament testing. Every adopter has a unique hole to fill. Look at it like a puzzle piece. Every detail that makes your life unique, adds another angle to your missing puzzle piece. If you have children under 8 that adds one angle, if you have a cat that adds another, your lifestyle, your personality, and your needs all add new angles. You don't want to squeeze a square peg into a round hole. You want a dog who will fit perfectly into that puzzle piece. We will not offer you a dog unless we feel strongly that it meets every check box that makes you unique.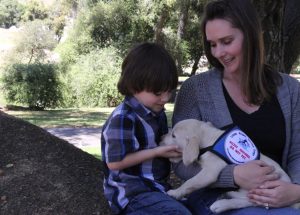 What if I have trouble with my puppy?
This is a question all adopters should ask their breeders and trainers. Puppies are, well … they are puppies. Anyone who tries to give you a guarantee on how a dog should behave is actually selling you a robot dressed in dog's clothing. We are matching you with a flesh-and-bone dog who has feelings, a personality, and a mind of their own. So, just like the rest of us, they have good days and bad days. While we cannot guarantee how your puppy will always behave, we can guarantee that we will never abandon you. We will always remain available to support you through training evaluations and advice, whether that be long-distance support or face-to-face training sessions. Our Agreement also states that you can exchange your dog for another if it is not suitable. But no one wants that to happen. The reason we pour so much into our new adopters is because we want our dogs to live happily ever after with their families, and they can't do that if you aren't both totally in love with each other!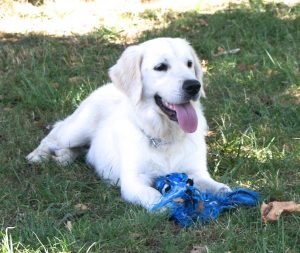 Can you help me make travel arrangements?
We will provide you with a travel planning guide which has directions to our facility, recommended hotels and accommodations, information on flying with your puppy, and fun things to do in San Diego throughout your visit. Everyone's travel expenses will be different, and they are the responsibility of each individual adopter. Some are coming in on international flights because they live in another country, while others drive through states to get here, or arrive in an Uber from the other side of San Diego. We don't recommend shipping a puppy to you because you don't learn how to reinforce your puppy's training, which is a very valuable process.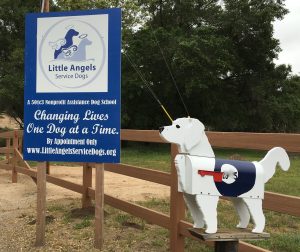 Will I ever need to pay anything beyond my adoption fee?
Everything listed on our Available page is included in your adoption fee. You can take as many of our monthly group classes as your heart desires, and there will never be another charge. If you wanted private lessons these could be arranged at an additional fee, but we do not find them necessary – it is only an option. We will also remain available to you for the lifetime of your dog through email communication and written reports. However, if you feel the need for a phone call or Facetime call we charge $1 per minute, for any call that lasts over fifteen minutes each month.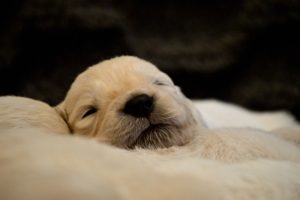 What if my dog doesn't bond with me?
This is a question we hear a lot. It is one of the major fears new adopters have. Remember that we are selecting this puppy for you because it has the right personality and propensities for your unique lifestyle. We also have a 'bonding session' the very first time you meet your pup. This is intentional, designed interaction which gets your puppy focused on you, in a positive way, from the first moment you lay eyes on each other. Talk about love at first sight!
There are also management techniques we can recommend for your follow-through at home which will have you both blissfully in love in no time flat.
Our Agreement does also state that you can exchange your dog for another – but if you do, it won't be because of a lack of bonding.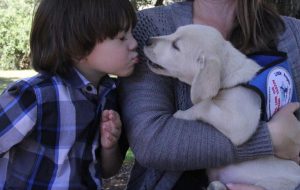 Is there anything I could do wrong that would keep you from sending the puppy home with me?
This is another fear that new adopters have. They worry that they will do something wrong, or 'mess up' their pups training to some degree, and that we will whisk the puppy out of their arms and send them home all alone. Rest assured, this is not going to happen. By the time you come out to meet your puppy you have already been approved into our program because we feel you are responsible and dedicated to caring for this precious little creature, and we feel that this dog will not hinder you in any way. We see you both living a long and beautiful life together.
We know that you are not a professional trainer. We do not expect you to come out to our ranch and knock us off our feet with your dazzling training skills. We expect this to be a process and know you may be learning new information for the very first time – and that is okay! We are here to educate and support you through the process of learning how to manage your new buddy. We will give you instruction in many different forms because everyone learns in a different way. We will teach you through lecture, written instruction, homework, demonstration, and hands-on practice. Once you are feeling confident, you get to show your knowledge either in demonstration, written, and/or oral form.
Don't worry! You are not in this alone. This is a group effort in every way.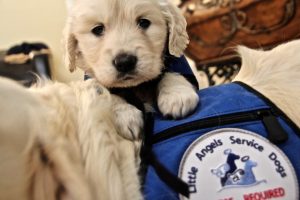 What if you have the right puppy for me, but I can't take it home that exact day?
If we have the perfect dog for you, but you are unavailable to take them home on our scheduled day, you can pay us to board your puppy until the next session. The benefits to this are that you still get that puppy, you have some flexibility in scheduling, and your puppy just keeps getting more training. It's a win – win – win situation!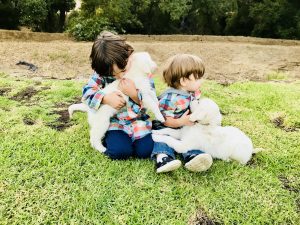 I need a Service Dog, so my needs are extremelly specific. How likely is it that you have the right dog for me?
Anyone that needs a service dog will have more criteria that a dog needs to meet before we are certain it is a good match. Once we have your application we will review it in great detail to determine the perfect dog for your situation. If you have made a deposit before we have pinpointed a dog for you, this will hold a spot for you on our waiting list. If our next litter of puppies does not have a dog that is a good match, we will keep your priority placement on our waiting list and attribute your deposit to the next available match. This goes for service dogs and pet dogs alike. We will NOT offer you a dog who is not a good match.
If we became anxious in the matchmaking process, and placed the wrong dog with the wrong person, it is not only a disservice to the adopter, but to the dog as well. We feel you both deserve the very best – and sometimes that takes patience on everyone's part.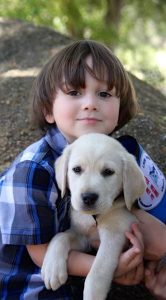 How do I send in my deposit?
You should not send in your deposit UNTIL your application has been approved.
Once your application is approved we will reach out and send you an Agreement to review. Our Agreement is a contract which goes over your responsibilities to us and to the dog, and our responsibilities to you and to the dog. Once you have reviewed this document, and you are certain that Angel Retrievers is a good fit for you, you will return the agreement and your $2,000 non-refundable deposit by USPS to
Angel Retrievers – PO Box 219, Jamul, CA, 91935
Your personal or cashier's check should be written out to Angel Retrievers. Do not send cash – it's a bad idea.
Please note, this is a non-refundable deposit. Why is it non-refundable, you ask? Because when you are on our waiting list, the list gets longer, which means other people who sign up after you are likely going to wait longer than you, and people often want to know 'how long is the waiting list'. While most of our adopters are patient for the right dog to come along, no one wants to wait longer than they have to. Most would like their puppies to be sitting in their laps right now.
We want you to consider your options long and hard before joining our waiting list. There are other breeders out there. There are other trainers out there. Angel Retrievers is one option among many. While we feel our experience in this industry makes this one of the best options out there – it is still your choice in every way. We do not want you to join our list, spend hours in communication, and sit for countless days waiting – when there is a better option out there for you somewhere. So, please take the time to do your research, and ensure we are the best option before sending in your agreement and deposit.
After you do – welcome to the family!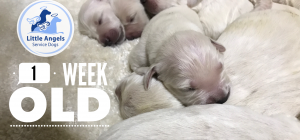 Can I change my puppy's name?
Absolutely. We name the puppies to keep their records organized, and to ensure the pup understands how to respond to a name in training. Instruction in how to change the puppy's name will be given to the adopter.
Part of our record keeping is to list the puppy's given name on their AKC registration. You can add your own name to that name if you wish. Registration papers should have long, unique names anyway. The more names, the better!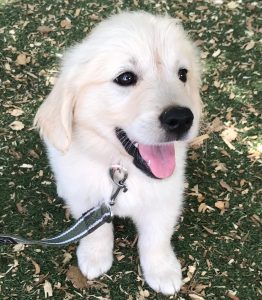 Where are you located?
Angel Retrievers is located in the county of San Diego, in southern California. Most of our adopters travel in from out of state to pick up their puppy and attend our instructional classes. Many will fly or drive back for further training, while others are content to follow-up with us through our free monthly email consultations, written personally for each individual dog and adopter.
Our pups will be prepared to fly back out with you when necessary. We provide, free of charge, a health certificate and airline crate for those who need to fly their dog as a pet in cargo. If you are adopting a pet they will fly via cargo for a separate flight ticket purchase. If you are adopting an Emotional Support Animal or Service Dog they can fly in cabin with you, at no additional fee. We are well experienced with this and will make sure you understand how to book your dog's trip, and how to fly with them comfortably and safely.
Each adopter also receives a travel planning guide with tips on traveling with a dog, as well as recommendations for local hotels and a tourism guide to visit the local sights of San Diego. We are confident you will enjoy one of America's finest cities!
What are classes like?
The very first time you meet your puppy you will participate in an 16-hour group class, spread out over a Saturday and Sunday. We will alternate between classroom instruction, and hands-on practice in our training field. We will begin in our indoor classroom with PowerPoint, lecture and videos. You will receive multiple workbooks which have been written and published just for all our Angels. We will also be working in our outdoor training field so you can watch demonstrations and have many sessions with your puppy.
Some owners will leave after this weekend with their pups and never feel the need to return for additional instruction, however, you will be invited to attend our continuing group classes, available once per month.
These events include individuals who are traveling alone, or entire families. Our ranch is child-friendly and we encourage parents to bring their kiddos so they too can learn how to interact with their new buddy. For parents who are bringing children under age 8 we will require a second adult to accompany the children to the playground when they become bored with the classroom instruction. This way they can stay active and happy, and return to work with their puppy when the real fun begins.
On the very first day we will be providing lunch for our adopters and families. This is a Picnic with Puppies and is always a joy!
Classes will remain available once per month for the lifetime of your dog, free of charge.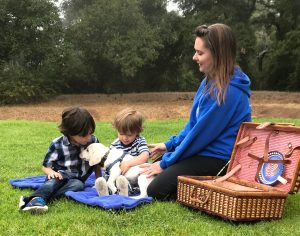 What if you don't have the right dog for me?
Once we have received your deposit and agreement you are added onto our waiting list, in order. Those at the top of the list receive priority for the next dogs available. If we do not have the right dog for you, you will remain on our waiting list so we can offer you the next dog that is a good fit, in order of your number on our waiting list.
Here is an example: Let's say you are #3 on our waiting list (the people ahead of you sent in their deposits before you). You need a puppy suitable to train as a Psychiatric Assistance Dog, you have cats, and plan to exercise your dog daily through walks in your neighborhood. You are hoping a puppy from our next litter will be suitable for you. When the puppies are born we see we definitely have enough pups in the litter for everyone on the list, however, by the time the puppies are 4-months-old we see that we don't have a pup in the litter that has the confidence to be a Psychiatric Service Dog. At that point your deposit would be transferred to the next available dog which is suitable for you. This continues until we have a good match.
Normally we will have a good match if we are looking at an entire litter of puppies and we don't have a long waiting list. Puppies in a single litter often vary greatly in personality and all seem to fit into a unique position in their pack hierarchy.
There are also times when an assistance dog in training is not on our 'radar' because it has been in training through Little Angels Service Dogs. When we determine the dog is not a good fit as an assistance dog it is released as a pet.  It is fortunate for everyone when we have a waiting list of individuals who could be a good match for that dog, as a pet. In that case we start at the top of our waiting list and work our way down until we find the right match and we will offer that dog to good placements on the list, in order of priority. It is their right to accept or pass on that dog.